A regular request from our woofers was the opportunity to discover the benefits of a real Thai massage. Not one of those practiced by inexpert hands but an authentic Thai massage done in the rules of the art, according to secular techniques and spirituality.
Well, now it is possible to enjoy Thai massages directly on our farm. We are fortunate to have in the village nearby, two experienced masseuses who will move without problems to make you discover this ancient art.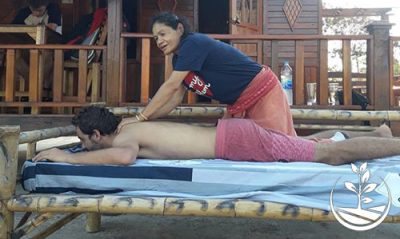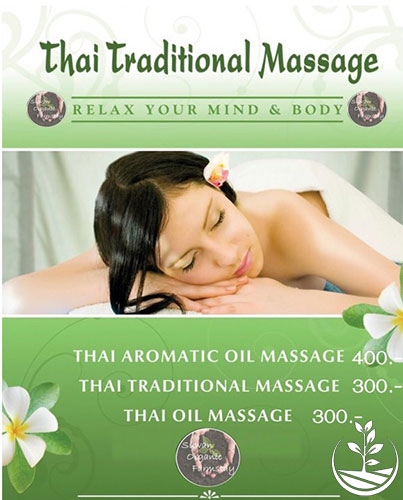 Traditional Thai massage can build on a long history of therapeutic healing.
If we retrace the evolution of massage-healing techniques practiced in Thailand, we discover the astonishing fact that the first roots of Thai massage are not found in Thailand but in India. The legendary founder of this art would have been a doctor from northern India. Known as Jivaka Kumar Bhaccha, he was a contemporary of the Buddha and a personal physician to the king of Magadha Bimbisara more than 2,500 years ago. The teachings of Kumar Bhaccha probably reached what is now Thailand at the same time as Buddhism – as early as the 3rd or 2nd century BC
The theoretical foundations of Thai massage are based on the concept of invisible energy lines crossing the body.
Indian origin and influence are evident here since the essence of this theory lies clearly in the philosophy of yoga. Yoga philosophy states that vital energy (called Prana) is absorbed by the air we breathe and the food we eat. Along a network of lines of energy, the Prana Nadis, the human being receives this vital energy. Among these energy lines, the technique of Thai massage has selected 10 main lines on which are located particularly important acupressure points. Massaging these lines and points can treat a range of diseases or relieve pain. The 10 main lines are enough to perform a practical treatment of the whole body and its internal organs. Disturbances in the flow of energy result in an insufficient supply of Prana, which in turn leads to disease.
Looking at the tradition of Thai massage, it is very clear that this is not seen as just a job.
Thai massage has always been considered as a spiritual practice closely related to the teachings of the Buddha. Until recently, it was at the Buddhist Temple that Thai massage was taught and practiced. The setting up of legitimate massage facilities outside the temples is a recent development.
The massage was supposed to be a physical application of Metta, the word pali (and Thai) used in Theravada Buddhism to refer to "loving kindness"
Many Thai masseurs are still working in such a state of mind today. A true good masseur exercises his art in a meditative atmosphere. It begins with a puja, a meditative prayer, to focus fully on the work, on the healing that it is about to perform. There is a world of difference between a massage done in a meditative mood and a massage that has just been done as a job. Only a masseur working in a meditative atmosphere can develop an intuition for the flow of energy in the body and for the Prana lines.
In the mid-80s, Thai massage seemed to be an endangered art. Chemical drugs have increasingly replaced traditional remedies and the reputation of Thai massage has fallen to the point of being considered a quacking practice. This was not helped by the fact that prostitution in the massage parlors, barely disguised, pretended to be a "Thai massage". Low quality massages on the beaches and in some commercial massage areas have made the situation worse.
In the late 1980s there was renewed interest in alternative health care in the West and, to some extent, in Thailand and other Eastern countries.
Suddenly, Westerners in search of traditional treatments are discovering Thai massage. Doctors, nurses, physiotherapists and masseurs, as well as people with training in yoga, yoga therapy and meditation, came to Thailand to supplement their knowledge with traditional Thai massage training.
Increasingly, Thais seem to realize that for certain ailments such as asthma, constipation, blocked shoulders, recovery assistance after a heart attack or to regain limb mobility after a stroke – for Just to name a few – Thai massage treatment is a good complement to conventional medicine and therapy.
Thus, in a decade, the Thai massage has regained the credibility it rightly deserves. Not only has the Thai massage survived, but it is more established than ever.