Your hotel:
The "day Inn" has a quiet environment while enjoying the proximity of the famous night market of Khaim Khong which borders the bustling banks of the Mekong.
The rooms are large and look like small apartments.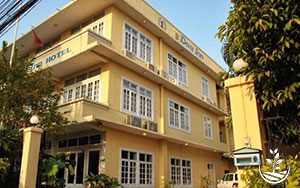 Excursions :
Day 1 :
1. Morning the guide will pick up the customers at the border and he will help for visa formalities
2. Visit the Buddha Park (because located not far from the bridge, to avoid the coming and going unnecessary).
3. Visit the ancient ruins that were ripe protecting the city, on the way to Vientiane
4. Check-in at the hotel
5. Visit of a center where silk is woven for traditional clothes
6. Small massage of 1 hour (body or feet)
7. Walk in the market along the Mekong in the evening
Day 2:
1. Participate in the morning alms (optional because very early)
2. Breakfast
3. Morning market
4. Black Chedi
5. Patu Xay
6. Passage photos in front of the Presidential Palace
7. Wat Sisaket
8. Ho Pra Keo
9. Pillar of the city at Wat Si Muang
10. Phra That Luang
11. Reclining Buddha Temple right next to Prathat Luang
(The order may differ but all visits will be made, other visits may be added depending on the time and no additional fees)
Day 3:
– Breakfast at the hotel and departure. Visit the Lao Brewery Museum and return to the border. Customs formalities and then direction "Suwan Organic Farmstay"
Prices :
Included: Hotel, English speaking guide, Private car and breakfast.
8.500 baht per person (minimum 2 people)
Do not hesitate to ask for additional information via our contact form.