Natural construction course
What is a natural construction
Natural construction uses low-toxicity untreated materials, along with systems that are appropriate for the climate, the site and the intended use. It mainly incorporates natural materials, some of which may be recycled natural materials, as opposed to commercial materials. The focus is to obtain these building elements from a local source – ideally from the construction site itself.
Our project
What better way to get your hands dirty than by learning the techniques and stages of natural construction through doing? Whether basins, decorative walls for the garden or bungalows, you will have the opportunity to work on concrete projects during you internship.
You will be trained and supervised by local experts on their site not far from our farm.
The program in natural construction
Day 1: Arrival at Suwan Organic Farmstay and farm discovery
Day 2: How to build clay and straw bricks, explanations and practice
Day 3: Building walls with earth bricks
Day 4: How to plaster and make works of art with natural materials. Learn how to make natural paint and apply it.
Day 5: Departure for other places or other activities on the farm.
IMPORTANT: It is essential to book at least two weeks in advance, or even more depending on the period. Without prior reservation we can not guarantee to have a place available for the internship (we limit the number of people for courses more friendly and effective) and to offer you the type of accommodation you want.
Price of our internship
Before you talk about prices it is important to mention that these include not only accommodation but also meals, morning, noon and night.
So the weekly rate (Monday to Friday), accommodation and meals:
8,000 baht per person in dormitory
9,000 baht per person in a private bungalow
15,000 baht for two people in a private bungalow
If you are more numerous or if you wish to couple this permaculture course with other activities or woofing, contact me directly by email. Guaranteed fast response.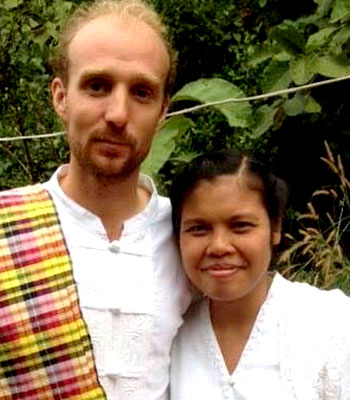 Tom deiters / Omsunisa jamwiset