Brand new, fresh (like our farm products) Suwan Organic Farrmstay now lets you learn the finer points and richness of Thai cuisine.
Aun, owner of the place will welcome you in a new dedicated space. Vegetables, spices, herbs, fish, crayfish, … all the products used for the composition of the dishes are directly from our organic farming and our ponds. Depending on the season and if necessary, we can supply ourselves at the small local market, another opportunity to discover an authentic living space, a place of exchange and conviviality in the stalls where are sold all the ingredients necessary for your first steps in Thai cuisine.
Thai cooking classes always begin with a tour of our biological spaces, a way of understanding and appreciating the full potential and richness of this type of culture. You will of course enjoy this didactic visit to pick up and collect fresh products that will be used for your Thai cooking class.
It should be noted that each participant has the choice between several dishes to cook, always proposed in the strict respect of the environment
The lesson is set at the price of 1200 baths.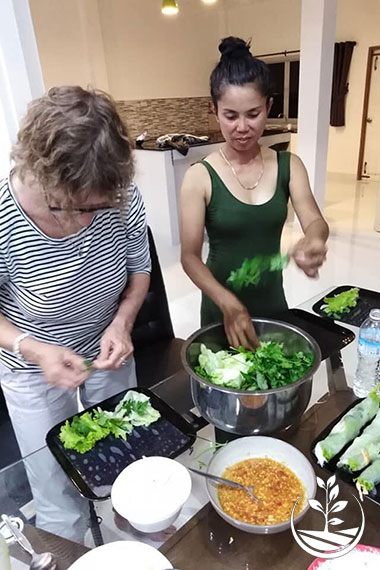 As part of the implementation of this new activity, we offer a gourmet stay following 2 formulas.
2 days / 1 night
2 days, 1 night, breakfast, 1 meal and cooking class included for 2500 bath per person or 4000 bath for 2 people
3 days / 2 nights.
2 nights, 2 breakfasts, 2 meals and 2 cooking classes for 5000 bath per person or 8000 bath for 2 people.
For cooking classes the participants will have the choice to choose 1 starter, 1 dish, 1 dessert and curry preparation or a vegetarian menu
Namely that the dishes have been selected so that the products come from our organic farm and, if the season does not allow it, the products will be selected at the local market.
1) Preparation of the curry (green, yellow or red) according to the selection of your menu
2) entries:
-spring rolls
– papaya salad
3) dishes:
– green curry chicken
– massaman
– paneng
4) desserts:
– mango and glutinous rice with coconut cream
-banana with coconut milk

Vegetarian special menu:
Choose 1 starter, 1 main course, 1 dessert
Entrance :
– spring rolls
– papaya salad
Dish :
– glass noodle
– fried vegetable salad with a mushroom sauce
Dessert:
– mango and glutinous rice with coconut cream
– banana with coconut cream