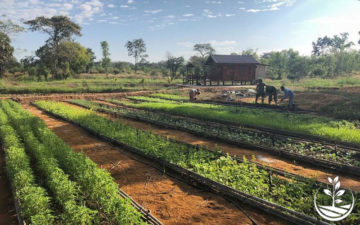 Woofing, eco village, permaculture, organic culture, green tourism, immersion in an authentic and preserved Thailand, Suwan Organic Farmstay is a bit of it all.
Coming to Suwan and Manu is opening the door to a green space made of smiles and friendliness, a place where the artifice and stress of modernity have no right to exist.But do not be fooled, the absence of the negatives of modernity does not prevent comfort and quality, as I invite you to discover our features and comforts as you browse this site.
And if you need information do not hesitate to ask your questions via our contact page.
Suwan Organic Farmstay is a little over three hectares with rice paddies, fishing lakes, organic vegetable gardens and fruit trees. A true greenery that you can enjoy from your bungalow.
But your stay in tropical farm is not limited to organic farming, we also offer activities off the tourist trail.
We will not discuss the possibilities of Wwoofing here, we have a dedicated page just for that.
We could say that our activities are consistent with our farmphilosophy … natural.
For the gourmets we offer cooking classes with healthy products from our organic farm. We also offer excursions to discover preserved and authentic sites. Or why not a quick getaway to neighbouring Laos? Feel free to browse our activities page for more details.
This quick overview would be incomplete if I did not talk about our vacation packages.
By the night, the week, the month and even the year, we are currently putting four bungalows at your disposal. We are preparing new rooms in order to meet the demand, but of course we must always respect our requirements in terms of quality and comfort.
I invite you to discover in more detail our various packages directly on this page.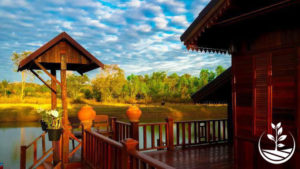 But what is woofing in Thailand?
Well, I'm not going to give you a class here, just some brief information for those who do not know this relatively recent concept that has taken off with the advent of organic farming and other organic productions.
The term "woofing", which some people also write Wwoofing, is an English word meaning "World Wide Opportunities On Organic Farms".
So the concept is simple: to allow those who wish to immerse themselves, for a few days or weeks, in the rural life of the country they visit, the land of smiles in this case with regard to Suwan Organic Farmstay .
The advantages of woofing are undeniable: immersion in the tropical Siamese latitudes at a lower cost, benefiting most of the time from lodging and shelter. The opportunity to learn specific permaculture techniques, to participate in daily rural activities, to discover a centuries-old culture rich in lessons, to evolve in a friendly and constructive atmosphere, to meet people with the same passions, the same dreams.
Want to know more about woofing at Suwan Organic Farmstay? All information on this page of our site.