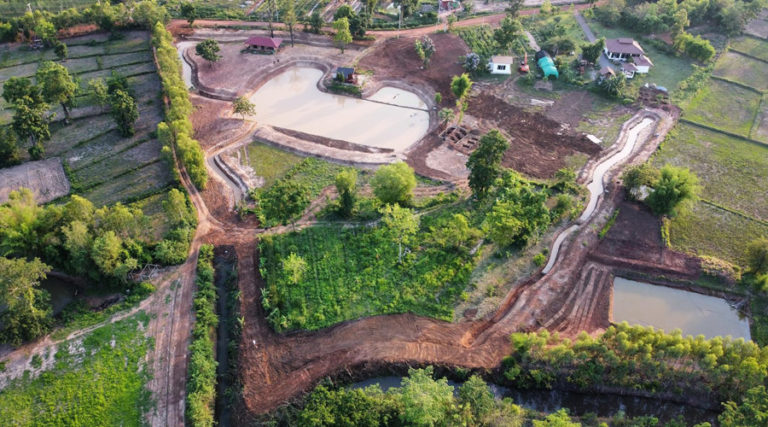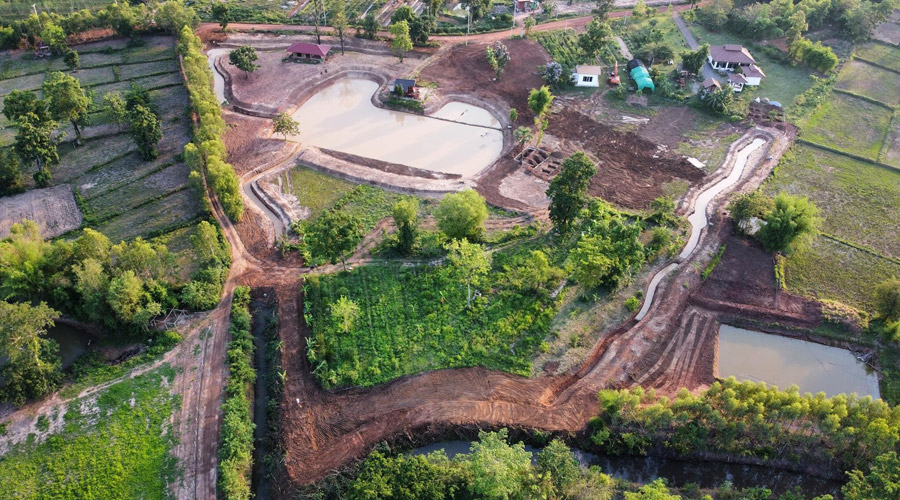 The "Suwan Organic Farmstay" is above all a place that adapts to your needs, your desires and your pace. It is a farm-inn, a farmstay, which allows you a total immersion in the Siamese culture.
It is also a place open to woofing offering discovery workshops such as composting, sowing, pruning, natural construction, natural fertilizers,…
Woofing in Thailand and more particularly in our farm-inn is also and above all encounters, paths that cross. People from all walks of life with common aspirations and similar dreams despite different life journeys. Space of conviviality and sharing where friendships are born.
In the age of the social and solidarity economy, this argument is increasingly raised by fans of farm holidays. In contact with farmers, we understand the essential role they play for society, but also the risks of seeing their activity disappear. Agritourism is therefore also a way of supporting the countryside.
Woofing in Thailand is the opportunity to dive into another way of life, to touch on another way of living and to think about the future.
IMPORTANT :
– Did you know that during your stay you can benefit from an initiation into permaculture or natural construction, without any supplement. These free activities are available in the morning and are of course completely optional.
– Another essential point, which we must confirm each time because the customers of our farmstay do not believe it: in short I confirm, the three meals of the day are indeed included in the price of our rentals. The prices you will find at the bottom of this page therefore include board and lodging. Welcome to the Suwan Organic Farmstay.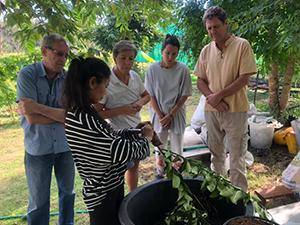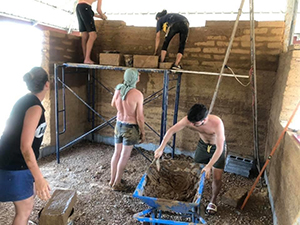 Some will talk about eco-tourism, agro-tourism or farm tourism, but I believe that the term woofing is much closer to what we offer in terms of hospitality, friendliness, comfort, adaptability, diversity, freedom, sharing and experiences.
Let me tell you about our woofing in Thailand because it differs a little from what you might find elsewhere, our desire being to adapt this concept to our values and the rules of this country.
The concept is simple, an attractive price that includes comfortable accommodation, quality meals and access to a number of activities according to your desires. Nothing is compulsory here, you participate in the life of our organic farm and in the various workshops according to your abilities, your desires, your interests.
We emphasize stress-free stays, impeccable hospitality and food, a natural, peaceful environment and simple and rewarding human relations.
The activities are numerous and can of course differ according to the seasons, respect for the rhythms of nature and the imperatives of the moment oblige…
Some examples :
Natural construction: from November to April…
– Clay brick construction
– clay brick masonry
– application of clay and lime plaster
– sculpture
The organic vegetable garden: from November to March and all year round for the crop beds…
– Maintenance of the vegetable garden & mulching
– Sowing
– transplanting vegetables
-Composting
– production of organic fertilizer
– natural farming
Edible forest / permaculture:
– Plantation of fruit trees
– Pruning of fruit trees
– layering and grafting
– Maintenance of the edible forest in the rainy season from June to October.
Rice fields: in the rainy season from June to October
– Rice planting and harvesting – Small fish farming
Aun and I each have our favorite areas to better share our passions with you…
Aun takes care of the farm, the vegetable garden, the edible forest, rice, fish farming, fishing trips… She is the one who has the knowledge in agriculture, it is for her much more than a job, it is is a passion! So she takes care of all that and also prepares your delicious evening dinner.
Me, I am in retraining, and to help my wife, I take care of eco-construction: manufacture of clay bricks, masonry, decorations, clay plaster, lime plaster, etc…
I continue to learn every day to better be able to welcome you and communicate our passions to you.
Important, access to activities is optional, they take place from 07:00 to 12:00.
For each rental of our farm inn, you will have a private bathroom and large "king size" beds for restful nights. Are you more of an air conditioning or fan? No problem, both are available.
For the view, sorry, no road nearby, no building in sight. All we have to offer you are spaces open to the surrounding countryside, views of the flowering rice fields (good depending on the season, eh, here we respect the rhythms of Mother Nature), on our organic vegetable gardens, on our ponds , …
You can also enjoy our carbets, our terraces, the garden with its flowers and orchids and the environment in general. Imagine, more than three hectares dedicated to eco-tourism, there is plenty to do.

Woofing rates:
All our rates also include three hearty meals a day, activities and supervision.
Wooden bungalow – Family bungalow – Modern bungalow
1 person: 900 baht/day 6,000 baht/week 22,000 baht/month
2 people: 700 baht/day/pers  9,000 baht/week 30,000 baht/month
3 people: 650 baht/day/pers  11,500 baht/week 38,000 baht/month
4 people: 600 baht/day/pers 14,000 baht/week 46,000 baht/month
Camping
1 person: 600 baht/day 3,600 baht/week 12,000 baht/month
2 people: 500 baht/day/pers 6,000 baht/week 22,000 baht/month
Guest rooms – natural construction – eco-construction (with shared bathroom)
1 person: 800 baht/day 5,000 baht/week 19,000 baht/month
2 people: 650 baht/day/pers  7,500 baht/week 26,000 baht/month
_________________
All our prices include 3 hearty meals a day.
All rentals have private bathrooms EXCEPT the natural construction bungalows.
All rentals in our farmhouse have fans.
You can also benefit from air conditioning in the modern and luxury bungalows. We then ask for an additional 100 baht per day.
Our types of accommodation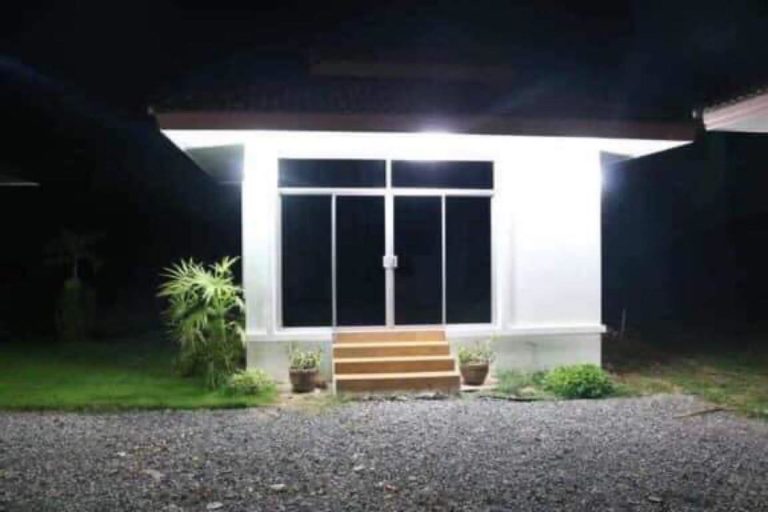 Our modern bungalows are perfect for those who like to stay in a hotel-like environment… They are bright, spacious and offer all possible comfort for 1 or 2 people maximum, with private bathrooms
Our wooden Bungalows
Our wooden bungalows are ideal for those who love the warm and authentic atmosphere of traditional Thai dwellings and all have a private bathroom.
These bungalows in the heart of nature are very popular with people who love greenery and a slightly wild environment. Fishing enthusiasts will also find their pleasure here!
2 double beds and 2 single beds and private bathroom.
They can be booked in a family bungalow or in a dormitory (to be specified at the time of booking).
Our guest rooms in natural construction
Our guest rooms with shared bathroom in the middle.
Our rooms in natural construction or eco-construction are handcrafted by ourselves and by our woofers in a friendly atmosphere.
Private room No 1 with shared bathroom
Chambre privative No 2 avec salle de bain commune.
The tent is placed on a covered terrace (carbet) which also has a rest and relaxation area. The carbets are equipped with mosquito nets:
Access to a shared bathroom.
Protection of biodiversity

One of the essential first steps for organic farming and self-sufficiency is to produce healthy and reproducible seeds!
Seeds are essential for humanity as they are the first step in the production of food. When they have been improved thanks to the intervention of the peasants, taking into account the particular local conditions, these seeds represent the cultural value of the traditions, knowledge and know-how on the use of biodiversity.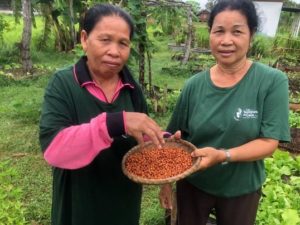 For our part, we of course work mainly with fertile organic seeds, thanks among other things to the partnership set up with the Kokopelli association… We produce winged peas seedsOur winged pea seeds for the Seeds Without Borders campaign, in return we receive vegetable seeds every year, we make a "fair trade"
What we also appreciate is receiving seeds from our visitors in order to increase the biodiversity of the farm. We appreciate it when our hosts bring seeds from their home country or from a country they have visited.
Sharing can also be done through what you bring… It's a pleasure for us to have trees, flowers, vegetables from all over the world!
This exchange is of course a plus, and in no way an obligation.
The Suwan Organic Farm is pleased to announce that we can now offer yoga sessions and initiation all year round and on the days of your choice. It's always a good time to think about yourself 😊🧘