Let's first locate Udon Thani and our farm...
Udon Thani (Thai: อุดรธานี, pronounced [ʔù.dɔ̄ːn tʰāː.nīː]) is one of the four major cities of Isaan (Nakhon Ratchasima, Ubon Ratchathani, Udon Thani and Khon Kaen known as the "four major cities of 'Isaan'), in the northeastern region of Thailand, an area the size of England or about half the size of Germany. Udon city is the capital of Udon Thani province and with a population of approximately 130,531, it is the 7th largest urban area in Thailand.
Udon Thani is approximately 560 km from Bangkok. It is a major official and commercial center in northern Isaan, Thailand, and the gateway to Laos, northern Vietnam and southern China…
Suwan Organic Farmstay is located halfway between Udon Thani and Nong Khai in the northeast of Thailand.
Our farm inn also benefits from a location close to the banks of the Mekong, the natural border with neighboring Laos. You will also find "the friendship bridge" less than 30 kilometers from our farm, a border crossing leading directly to the Laotian capital of Vientiane. We also offer an excursion to this neighboring country.
Our goal: to show that it is possible to discover a foreign country by freeing yourself from the logic of frantic consumption and to integrate your project into the local economy. We are looking for a deeply human experience of exchanges and discoveries in total immersion with local life…
Our little "excursion menu"... To see and share with other Isan enthusiasts...
On the Red Lotus Lake in Udon Thani, you can take a relaxing boat ride, to discover a curious mix of flora and fauna… And of course the legendary lotuses which are the stars of this place! The experience is very close to nature, which is great! Plus, there's a nice little mix of cafes and hawker-style shops near the water, as well as an interesting rainbow-colored pier, which is also worth a look. Overall, it truly is one of the "hidden gems" of the eternally surprising Isaan (northeast) region of Thailand.
Wat Pa Phu Kon, also known as the Forest Temple, is an exceptional place located in Udon Thani province, but closer to Nong Khai town than Udon town. This place is unique and is sure to impress even those who have seen enough of Thailand's countless temples…
The Wat Pa Phu Kon temple complex was built between 2010 and 2013. The funds used for the construction were donated by a Thai donor in honor of King Bhumibol Adulyadej. The complex is centered around the Grand Wihan, the largest component of the temple. Additionally, a number of small buildings are located around the complex. One of the temple's most notable features is a twenty-meter-long statue of the reclining Buddha built with blocks of white marble imported from Italy and then carved in Thailand. The temple also has a 25 meter high golden stupa.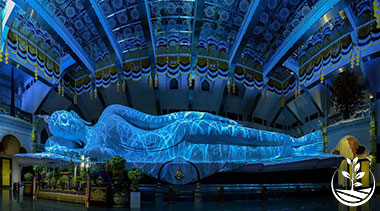 3. Phu Phra Bat Historical Park
Phu Phra Bat Historical Park is one of the must-see attractions in Udon Thani province, not only for its amazing and bizarre rocks, but also for its superb spiritual and religious shrines. The earliest shrines date from the Dvaravati period of the 7th to 10th centuries, with Hindu and Buddhist influences.
Phu Phra Bat is located in the western region of the Phu Phan Mountains between Udon Thani and Nong Khai, approximately 65 kilometers between these towns. This park has an area of approximately 4.9 square kilometers and is within the Phu Phra Bat Bua Bok Forest Park. The park's unusual rock formations include spiers, balanced boulders, and massive boulders that form the backdrop to the prehistoric art and religious shrines created here. The geological origins of these rocks are believed to be from underwater erosion that occurred around 15 million years ago.
4. Ban Chiang Archeological site Udon Thani
Ban Chiang is an archaeological site in Nong Han District, Udon Thani Province, Thailand. It has been a UNESCO World Heritage Site since 1992. Discovered in 1966, the site aroused interest for its ancient red pottery.
The Ban Chiang archaeological site is a prehistoric human habitation and burial site. It is considered by researchers to be the most important prehistoric site discovered to date in Southeast Asia, marking the beginning and showing the development of rice cultivation typical of the region.
Visiting the pottery museum is an incredible odyssey through time… And if you take a guide, half a day flies by… It's even possible to have a guide who speaks French!
5. Baan Khiri Wong Kot Udon Thani
Muban Khiri Wong Kot is located in Amphoe Na Yung, it connects the district of Udon Thani province in the west, in the east with Amphoe Pak Som in Loei province. The village is surrounded by green mountains. Muban Khiri Wongkot has become an ecotourism village to accommodate tourists through community members cooperating to provide tourism services.
Khiri Wong Kot Village is an ecotourism village managed by community members. The tourist has the choice of staying with the host or sleeping in a tent. The community members earn their living through agriculture based on the philosophy of sufficiency economy and live a very simple lifestyle. They welcome visitors in a warm and friendly atmosphere.
Amidst the mountainous forest in the labyrinthine Na Yung district, your adventure begins in a remote village upstream. Here you can enjoy the water at Huay Chang Plai Waterfall and eat a country style buffet by sitting in a circle around delicious food,  among others rice cooked inside bamboo, spicy Thai salad (som tam), grilled chicken, grilled fish and dill soup in bamboo…
6. Udon Thani Night Market
The Udon Thani night market, as its name suggests, comes alive in the early evening and until nightfall. It's a great place to find countless vendors selling clothes, shoes, and even stalls that only sell bras! The night market has grown significantly in recent years and now extends along both sides of Prajak Sillaphom Road, with many food stalls on the eastern side.
There is also a 7/11, as well as several Thai food restaurants at the back of the original complex on the left (across from the station).
Wat Jetiyakhiri is the official name of the temple, although the most commonly used name is Wat Phu Tok (วัดภูทอก), Phu Tok being the local Isaan name for the mountain and Wat meaning temple.
Wat Phu Tok is arguably the best tourist attraction in the area, although it is actually in Bueng Kan province, northeast of Udon Thani, and it is truly magnificent. It is located about three to four hours east of Nong Khai (40 minutes from Udon Thani by car).
The monk Luang Pu Juan founded the temple and began building wooden stairs, ladders and walkways across the mountain, connecting a variety of shrines and places of mediation. Eventually, the monks constructed seven levels, correlating with the seven stages of Buddhist meditation.
Unfortunately, Luang Pu Juan died in a plane crash. But Wat Phu Tok is maintained and remains a majestic spectacle.
It takes about 2 hours at an average pace, but I stopped to take lots of photos and videos along the way. Give yourself 2 hours to enjoy it.
Wear appropriate clothing – even though it is a trek, it is a temple, wear long pants and sleeved shirts, good  shoes are also advised for trekking.
9. Sala Kaew Ku Nong Khai
The Sala Kaew Ku sculpture park is located 6 km east of Nong Khai on road 212. Its visit is certainly the most surprising to do when you come to the town of Nong Khai. In the garden of Wat Khaek, there are dozens of immense cement statues…
The park is a mix of Buddhism and Hindu ideologies, many-armed goddesses, Buddhas, Naga serpents and human-animal hybrids. One can easily spend several hours there, although the park is not actually a Wat, there are a number of Buddhist activities practiced there for locals and visitors. There are stalls where you can buy "lucky stones"  One of the most striking features of Sala Kaew Ku is the view that greets you as you enter the parking lot, where you have the opportunity to see the scale of these "monuments"… many of them are simply enormous!
10. Wat Pha Tak Suea Skywalk Nong Khai
Wat Pha Tak Suea is a temple located in the beautiful mountainous and forested regions of Nong Khai province in Thailand. In 2016, the walkway opened to visitors, which attracted many tourists as well as Thais. The 16 meter walkway is a U-shaped platform located on the hillside at the edge of a cliff…
The visit is free from 9:30 a.m. to 4:30 p.m. every day.
11. Wat Pho Chai Nong Khai
Known for its highly revered Buddha image and strikingly modern wall paintings, Wat Pho Chai is the largest and most important temple in Nong Khai town. Travelfish says: The bronze Buddha statue with a solid gold head, known as Luang Phor Phra Sai, was one of three made at the request of the daughters of a king of Lan Xiang several centuries ago ,  it would have been brought back from Laos and fallen into the Mekong, then would have been recovered 25 years later to be kept in another temple until it was then kept permanently at Wat Pho Chai.

12. Tha Sadet Market Nong Khai and night market
The Tha Sadet Indochinese market in Nong Khai is about half a kilometer long and the majority of it is housed under an arched roof. Every day, a multitude of Thais, expatriates and tourists linger along its streets…
On weekends, Tha Sadet's popularity increases, the crowds become denser and the afternoon heat inside the market can become a little unbearable…
The market's goods mainly come from the north and northeast of Thailand, China and Laos. The Sadet market sells just about anything and everything. And how do you categorize everything?….. electrical appliances, clothes, kitchen utensils, handbags, shoes, games, DVDs, souvenirs, chocolate, bread and spices. Sadet's market is Amazon.com, on the Mekong. There are also some good restaurants.
Saturday evening is the highlight of the week for the locals of Nong Khai, and the place to head is the night market on Tha Sadet Road which runs along the river. It begins at dusk and, as the title of this chapter indicates, takes place every Saturday.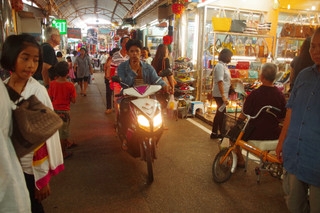 13. Nam Phan Lake Sangkhom
Nam Phan Lake is located in Sang Khom District (locals often call it Sang Khom Lake) about 60 kilometers northeast of Udon Thani. Here, no pink lotus like in Talay Bua Daeng but dozens of floating bamboo cabins. It is a very popular place among locals who come here to eat and have fun with their friends and family.
Here, you order your meal on the banks before boarding floating bamboo huts pulled by a motorboat to the middle of the lake.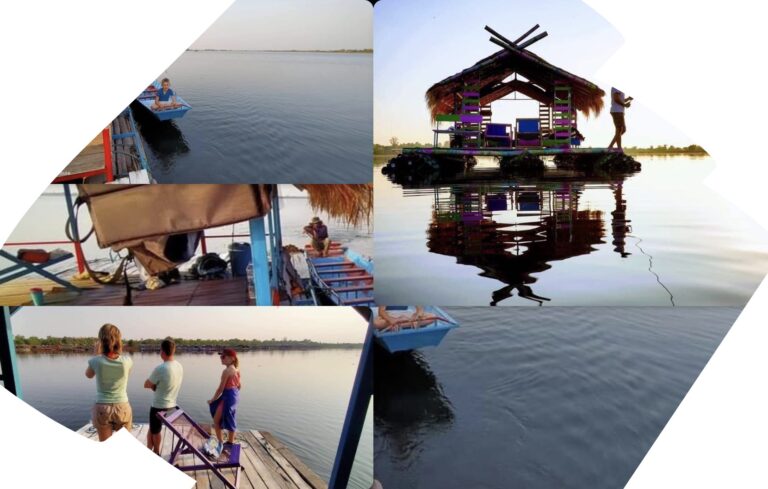 14. Samuay and Son, a mecca for modern Isan gastronomy
Thai cuisine presented in a contemporary style, with local raw materials to support agriculture and seasonal produce.
The boss, Weerawat Triyasanawat, Num for the regulars, is super friendly and always finds good recipes to accommodate local products that he finds himself by going to meet the producers.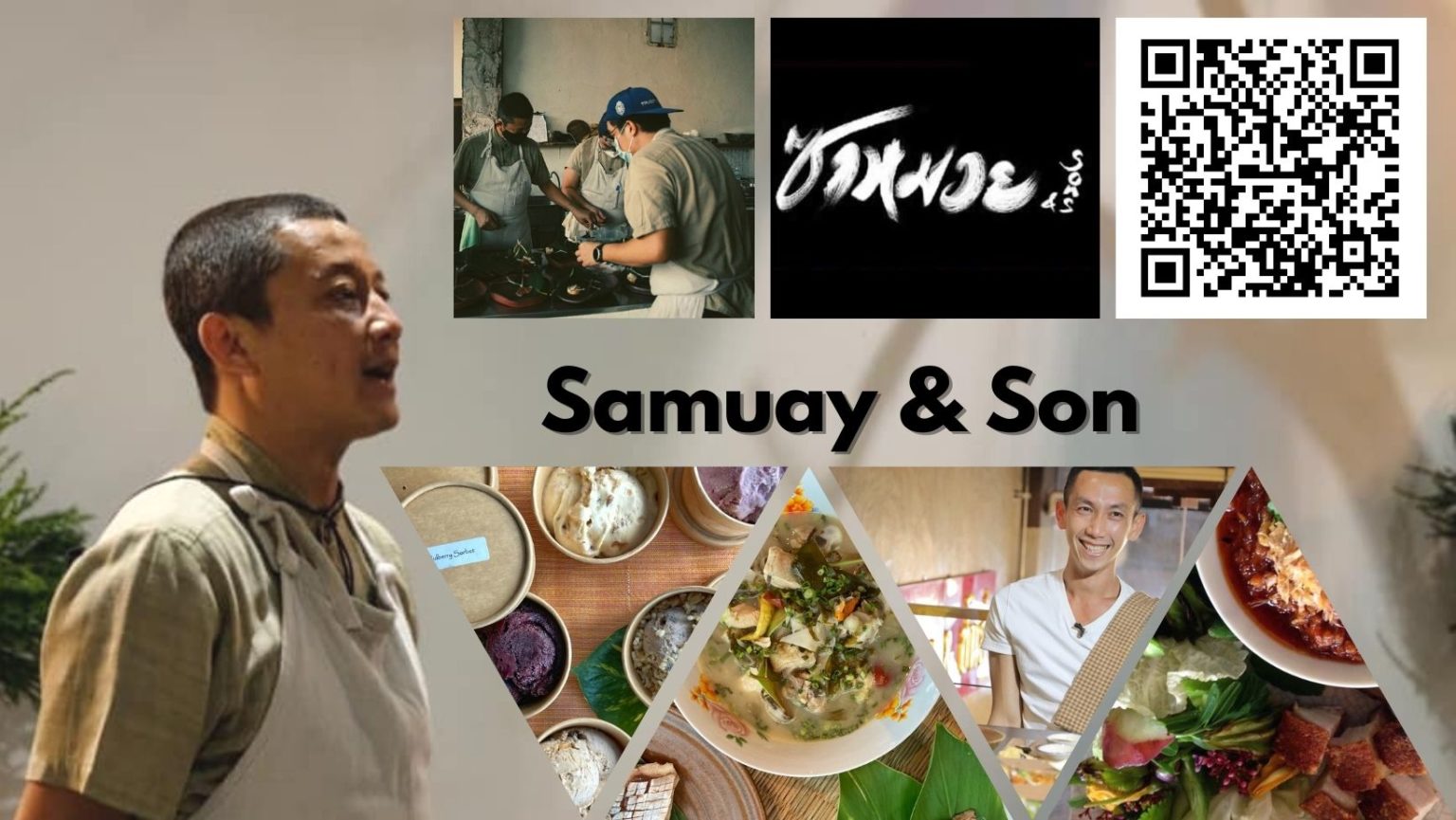 15. Issan Rum Distillery Nong Khai
Issan Rum Distillery Agricultural Rum 100% Sugar Cane Juice Awarded at the HK IWSC and Rhum Fest PARIS.
The free tour of the distillery and tasting room is relaxing and very enjoyable!
As soon as you arrive next to the Isaan Rum Distillery, you smell the alcohol, and it smells pretty good. When you enter, you can see people working sugar cane and making rum.
Inside there is a lovely place to sit next to a small lake and test the rum, where you can have a coffee or a bottle of water. It is a peaceful and pleasant environment to relax in. The cost of a bottle of rum is just over 700 THB. You don't have to buy them if you don't want to, but they make a great and unique gift for someone who is a fan of good rum.
According to numerous studies, drinking rum in moderation prevents heart disease and lowers cholesterol.
A quick word about the Pimali Foundation's hotel training center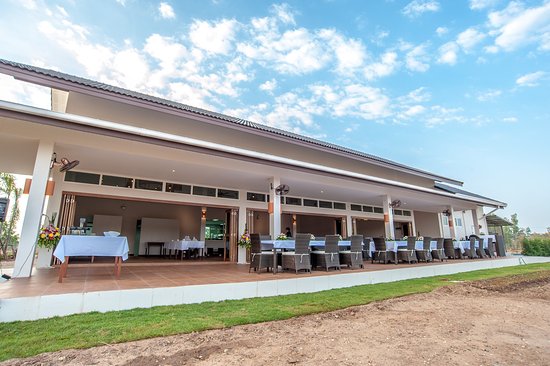 Pimali Foundation Hospitality Training Resort is a countryside resort of the foundation's hospitality training school run by the foundation's students who are all from disadvantaged backgrounds or orphans, and the Pimali Foundation gives them the opportunity to embark on a career in hospitality and catering. Pimali is located in the countryside, surrounded by rice fields and gardens and offers quality accommodation in 4 bungalows which provide the ideal base for exploring and enjoying this fascinating region renowned for its unique culture, traditions, beautiful natural landscapes and its fantastic cuisine. The resort's restaurant is not to be missed as it serves delicious and natural local meals and fine dishes of traditional Thai cuisine. Freshness and quality guaranteed! The menus offer dishes from local Isaan cuisine as well as classic Thai cuisine and some European dishes. The resort welcomes guests to learn how to cook local dishes with freshly harvested produce. By sleeping or eating at Pimali Foundation, you will help them continue their essential work for the future of countless disadvantaged young people by helping to fund their scholarships.
The founders of this center, Alexandre and Stéphanie, will welcome you warmly, they are Swiss. They will be able to explain to you why they chose to invest in helping disadvantaged children in our beautiful region.
By making your contribution, you will help them carry out a beautiful mission of the heart for the children of Isaan.
https://www.facebook.com/Pimali-Association-Pimali-Foundation-1382076278726758